Joined

Oct 24, 2018
Messages

19
Essence
Coin
Tokens
World

Mesa Roja
Profile
Character Name:
Brain
Character Source:
Fairy Tail
Profession:
N/A
Currently, Brain has just arrived on Hurshii and is unemployed.
Spent Essence:
1600
Physical Tendencies:
Power (P): 45%
Toughness (T): 10%
Quickness (Q): 10%
Skill (S): 35%
Personality Tendencies:
Aggression (A): 30%
Cunning (C): 40%
Diplomacy (D): 15%
Support (S): 15%
Physical Description:
Brain has neat silver hair that reaches his shoulders, a small amount of facial hair along his jaw, and dark skin. His pupils and irises are extremely small, his irises are hazel and he has no eyebrows. He has black tattoos on his face and body, which are mostly straight, angular lines, though one on his chest—which closely resembles Japanese text within a black square—is his guild's logo. He has a muscular build and stands 6'3" tall.
Brain normally wears a white cloak with a long, black, fur collar and yellow/black bands across the shoulders. Beneath this he wears a purple jacket with sleeves which reach just past his elbows and each have two white stripes at the ends, which leaves his chest bare. He wears dark blue trousers along with a yellow/black belt, which has a silver clasp. The trousers have thin, white arrows pointing downwards on their front, one on each leg, which reach to about his knees. He also wears a pair of shin-high, dark brown boots and a strip of white fur wrapped around each of his legs, which attaches his boots to his trousers.
Character History:
Once upon a time, on a planet imaginatively named Earthland, somewhere not in the Kingdom of Fiore, existed the Bureau of Magical Development, which was run by a man who was supposedly tremendously intelligent, having invented hundreds of spells himself, but who also was sadly very fond of experimenting on children.

He was forced to leave and flee to Fiore after one experiment too many resulted in the destruction of the Bureau's only laboratory. He then travelled to another creepy structure called the Tower of Heaven, which also had an ample supply of children. In exchange for teaching the leader-child, Jellal Fernandes, some fancy spells, the boy allowed him to take away a few other kids who had high amounts of magic power.

The man, who by this point had begun using the alias Brain (possibly to avoid being identified by his previous employers as the guy who screwed up so badly he lost decades worth of research and killed a bunch of scientists in the process), taught the kids magic and indoctrinated them, convincing them all to join his dark guild and help him be evil and stuff.

Many years passed and they eventually heard about the existence of a crazy powerful magic weapon called Nirvana, so decided to find it. Aside from making some pretty questionable choices along the way (like beating up a bunch of good guys then inexplicably wandering off without killing them), that went pretty well, and they actually managed to find Nirvana, which was revealed to be a city-sized, magic-powered, bug-shaped mecha-golem that could shoot lasers which turned people evil. Honestly, though, being stomped on by it was probably more of a threat than its evilness laser, as that thing required such an absurd amount of power that it could only be fired once every 20 minutes.

But by the time they had activated their new toy, their members had already begun being picked off one by one, by the same do-gooders whom they could easily have slain previously if they'd not been so lazy and arrogant. Eventually, when all six members had been beaten, it looked as if they had lost… only for Brain's vastly more powerful split personality, Zero, to awaken and take over his body. Now that the members of the Oración Seis had fallen, he was freed him from the spell (called Six Prayers) which had kept him sealed away.

Because as it turned out, Zero was so evil that even Brain—a man who had absolutely no qualms about mass murder, child experimentation, child slavery, or leaving his co-workers in a building that was minutes from exploding as a direct result of his own actions—thought he was a fucking nutcase.

Right after showing up, Zero effortlessly beat up a bunch of good guys and made an off-hand comment about not being satisfied with just defeating them, saying that he knew they were still breathing and wouldn't stop until he had torn their bodies apart (presumably referencing Brain's earlier error)… then, instead of doing that thing which he had literally just finished saying he was about to do, he immediately wandered off and forgot all about them.

Shockingly, the enemies whom he had inexplicably spared once again, decided that it would be a good idea to stop him before he was able to develop an attention span more than a few seconds long and actually managed to kill someone with Nirvana. Just as the evilness laser was finishing charging up to fire its second shot (after unimpressively missing the first one, 20 minutes previously), the good guys showed up to have a climactic final battle, and eventually defeated Zero. The day was saved and everyone was happy.

Zero reverted to being Brain, who was then dragged off to prison with the rest of the Oración Seis. Some time later, the rest of the guild apart from Brain managed to briefly escape before failing dismally once again and being recaptured. Presumably Brain was being kept in a separate area of the prison and that's why he wasn't able to escape along with the others in this instance.

Even more time later, after years had passed, all of them managed to get out of prison together, only for Cobra—one member of the guild—to immediately kill Brain while the rest looked on dispassionately. Cobra then explained to the others that Brain was a manipulative bastard, so totally deserved it. They all accepted this without much argument. It wasn't entirely clear why Brain expected Cobra to have forgotten that Brain had previously shot him in the back in one of his many half-hearted attempts at committing murder (and then hadn't bothered to check to confirm that Cobra was actually dead, naturally).

The remaining members of Oración Seis then met up with Jellal and fought him for a bit, before deciding to join his new guild, Crime Sorcière, because French guild names are apparently more trendy than Spanish ones.

Brain, meanwhile, was still dead.

But then he mysteriously arrived in the Crossroads with no proper explanation as to how, just like any decent isekai protagonist should. When he returned to consciousness, he found himself on Hurshii, and thankfully no longer with a gaping hole in the side of his torso.
Items:
N/A
Abilities/Skills:

Klodoa (Sleeping)
[50]
Damage 1 (100)
--Removable (-50)
Klodoa is a Magic Staff, approximately 6'5" long, and is capable of speech (amongst other things) when awake. Whilst sleeping, he is much less impressive, though even in this state Brain can channel his Magic Power through Klodoa, and can use him as a simple melee weapon.
Spatial Magic: Requip (Brain's Dagger)
[50]
Damage 1 (100)
--Removable (-50)
Darkness Magic: Dark Rondo
[800]
Damage 4 (400)
--Affects Multiple 2 (400)
--Ranged (200)
--Removable (-200)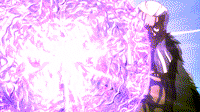 Brain must be holding Klodoa to use this spell. When cast, magic (i.e. green light) swirls around Klodoa's skull, condensing over the span of a few seconds (see image 1). Brain can then fire the gathered magic as widespread attack (numerous blasts, see image 2), or as a condensed one (one massive blast). The magic detonates upon impact.
Enhanced Durability
[200]
Protection 1 (100)
--Ongoing 1 (100)
As a result of having so much magic power within his body, Brain is far more resilient than a normal human, with knives barely being able to scratch him.
Archive Magic
[200]
Communication 2 (Magic, Telepathy) (200)
Darkness Magic: Unnamed Spell #1
[450]
Damage 3 (300)
--Ranged (150)
When holding a hand with all fingers straight and pressed together, Brain can fire a small burst of magic power (i.e. green light), at the speed of a bullet, from his palm.
Darkness Magic: Unnamed Spell #2
[300]
Protection 3 (300)
--Ongoing (300)
--Concentration (-150)
--Side-Effect (two-way) (-150)
By concentrating continually, Brain can summon and maintain a sphere of magic energy (i.e. a shiny, green bubble) around himself, which protects him from harm. Though the shield does move with him wherever he goes, it prevents anything from passing through it from
either
side, so must be dropped in order for him to attack.
Master Skills:
N/A
Last edited: