User name:
Illaoi
Have you read the rules?
Yes
Character Name:
Bloodhound
Character Source:
Apex Legends - Canon
Starting Location:
Kraw
Character Behavior:
Resourceful Tracker
Bloodhound is resourceful. They rely mostly on their tech; grenades, rifles and most importantly, the Eye of the Allfather. Raised amongst hunters and gatherers, Bloodhound learned to take any opportunity revealed to them and to use whatever was at hand to do so.
Bloodhound is a Tracker. Their Eye of the Allfather and numerous years learning to hunt and track their prey have lead to Bloodhound being a formidable hunter. Once Bloodhound is on your trail, it's a matter of when they'll catch up rather than if.
Physical Description: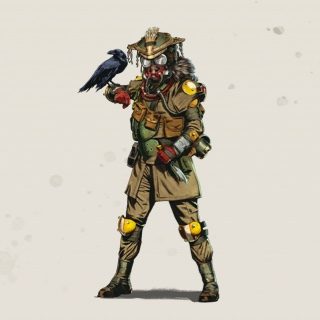 Character History:
Bloodhound is known across the Outlands as one of the greatest game hunters the Frontier has ever seen. The child of two engineers stationed at the New Dawn industrial plant on Talos, Bloodhound was taken in by their uncle Artur after a meltdown destroyed the facility and killed both their parents. Artur taught them the "Old Ways", a belief system that focuses on the glory of nature and rejects modern technology. Yet Bloodhound was constantly drawn to technological marvels, and ultimately used both new and old methods to take down a Goliath that preyed on the people of their village, forever changing their life's path.
Bloodhound's unparalleled tracking skills are a boon to any team they join, helping them root out hidden opponents and track enemy movements. Calling on Earth's Old Norse Gods to guide them, Bloodhound believes that destiny is a path that has already been laid out, eventually carrying all to their death. But with that knowledge comes strength, because until that day comes, Bloodhound knows they can't be stopped.
What starting Affinity does your character have?
Formidable
Abilities/Skills:
Eye of The Allfather
Senses (Extrasensory) 3 - 300E
- Indirect - 300E
- Indiscriminate - -150E
- Finite - -150E
Total: 300E
Bloodhound activates the Eye of the Allfather by pushing a button on their wrist mounter HUD. It sends a sonar wave out to 80m and highlights any enemies, traps or clues/tracks. Anything that is highlighted remains visible to Bloodhound for the next 4 seconds. The Eye needs a full 30 seconds to recharge before it can be used again.The Eye works regardless of anything that happens to stand in the way of the cone; Bloodhound will be able to see their prey through walls or any other obstacles that stand in the way.
I'm 85% sure this one is gonna need some working!
Kraber
Damage 6 - 600E
- Ranged - 300E
- Concentration - -300E
- Removable - -300E
Total: 300E
Bloodhound's favoured weapon is the Kraber .50 Cal Sniper Rifle. It has a magazine capacity of 4, but the trade off is incredible accuracy and damage at long range, especially if the target is hit in the head. Bloodhound must concentrate fully on keeping the Kraber's aim on target. It also has a long reload time, leaving it's RPM at 36.
R-301
Damage 4 - 400E
- Ranged - 200E
- Removable - -200E
Total - 400E
The R-301 is the successor to the R-101 and R-201 Assault Rifles. While it's base magazine size of 18 can be a little restricting, the R-301 boasts an RPM of 816 and unrivalled power and accuracy at medium to long ranges. A useful weapon that Bloodhound uses when unable to make proper use of the Kraber.
Raven's Bite
Damage 2 - 200E
- Removable - -100E
Total: 100E
When their rifles don't do the trick, Bloodhound will opt to take the fight to melee, wielding their formidable handaxe; Raven's Bite.
Hunter's Physique
Endurance 3 - 300E
Having spent years upon years either tracking wild beasts or other contestants in the Apex Games, Bloodhound has built up a physicality that allows them to run and sprint for longer than the average human.
Hunter's Agility
Agility 1 - 200E
Years of activity have shaped Bloodhound into an apex predator. They are able to scale practically any terrain in an effort to move with efficiency and to get the drop on their prey from unexpected angles.
Master Skill
I wasn't sure if this would come under Knowledge or Survival but -
Rank 5 Master Skill
Knowledge/Survival: Tracking - 250E
Bloodhound is a master tracker. It is their life's goal to take down the biggest beasts in the name of the Allfather. As such, they have mastered the art of tracking and stalking whatever is unlucky enough to earn their attention.
How much Essence did you spend?
1850
How much Essence do you have left?
150
Were you referred by an existing member?
Nah. I'm Cho.
Last edited: