User name:
Lincoln Clay
Have you read the rules?
Yes
Character Name:
Lincoln J. Clay
Character Source:
Canon: Mafia III
Starting Location:
Nos'talgia
Character Behavior:
Lincoln Clay is generally a calm and collected man who is loyal to family and friends. He can be the same in these moods when he is in combat situations to not let any enemies get the best. Lincoln never runs away like a coward since he is a real soldier by heart because of how war has shaped him. The negative to having experience on the battlefield that it makes him suffer from PTSD, but this sickness usually doesn't happen during shootouts. If given any tactical commands by his allies during a battle, he will make sure those will go fulfilled. As John Donovan mentioned one time about Lincoln's time in Vietnam while being taped on a previously classified recording of a US Senate Committee interview, "Someone like that you don't need to train. You point them in the right direction and get the fuck out of their way" is an excellent example of how Lincoln is in combat when working with a friend.
As a criminal, he is cold, cunning, and calculating with an eye for the big picture, efficiently working out a methodical way to reach his goals. When it comes to social, Lincoln is personable and outgoing, ready to make any potential friends, no matter their background. Anyone that threatens or kills any of his friends or family Lincoln will have a grudge against them and make sure they will pay for their actions. Lincoln is fearless in any situation from being a hardened soldier, plus the involvement of unexplainable horrors that war brings.
Physical Description:
Gender - Male
Race - Mix (Mother is Dominican and Father possibly Italian)
Age - 23
Height - 6'4
Weight - 210 lbs
Body type - Healthy, Athletic, and Muscular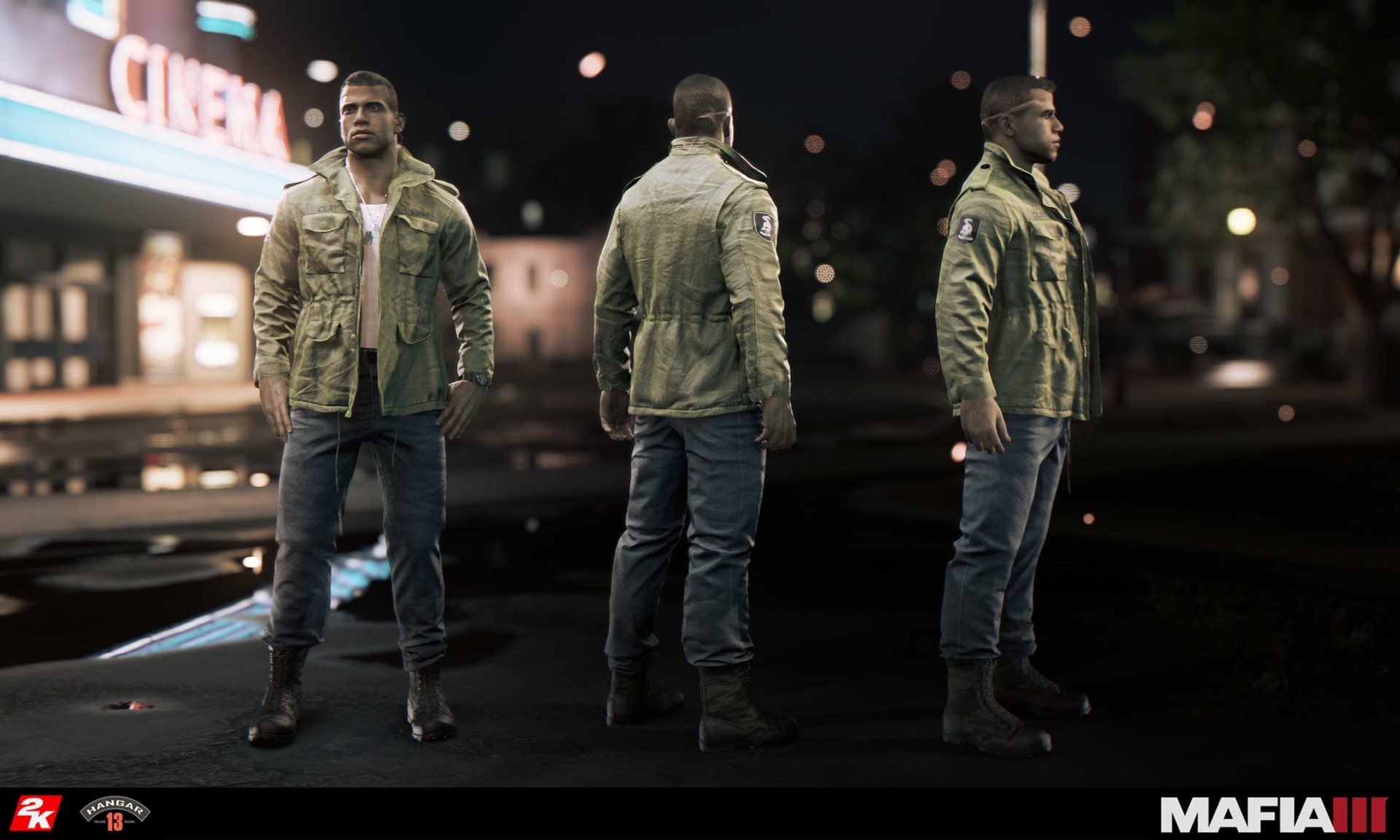 Character History:
Childhood
Lincoln was born in 1945, left to his mother as his biological father disappears. His mother abandoned him in 1947 but soon was taken into an orphanage. All of his childhood, Lincoln lived in a big city named New Bordeaux. This metropolis location was in one of the southern states of the USA, Lousiana. For an extended period, no one adopted Lincoln, and he stayed there until the orphanage closed down in 1958. Shortly after, he was takin in by a man named Sammy Robinson and his wife, Perla. They had a biological son named Ellis, who became Lincoln's adopted brother.
Military Service
It was tough for Lincoln Clay to find his true identity even if he was a black mob member. He joined the US Army in 1964, to fight the dreaded war in the west known as the Vietnam War. The 223rd Infantry was the unit Lincoln served in, then later joined the 5th Special Forces Group. In April 1966, he became assigned to a covert operation where he met a CIA operative, John Donovan. Now John insisted that Lincoln should be brought deeper into his mission. While both worked together in this operation, they created a strong friendship and became colleagues.
The amount of experience he received in service, his combat skills became professional, and Lincoln became extremely familiar with handling any military-grade firearms or explosives. Gutting his enemies by the end of his combat knife grew into a daily job he would do day by day. Stealth, tactics, and infiltration Lincoln developed to be his skillset that completed the mission every time. Lincoln also grasped the knowledge of psychological warfare by displaying his victims' corpses to the public, cracking encouragement within his enemies that transformed into fear.
Homecoming
His military career would end by being discharged, so Lincoln returned to New Bourdeaux in February 1968. Upon coming home, he reunites with the Robinsons. They celebrated in the night of Sammy's adopted son returning from the war in one piece. Unfortunately, the next day, a debt had occurred when the Haitian mob decreases Sammy's profit. That debt now owed to the man who ran the underground criminal scene of New Bourdeaux, Sal Marcano. Lincoln set out to fix this problem by murdering Baka, who was the Haitian mob's leader.
Afterward, he met Sal Marcano and wants Lincoln to replace Sammy. Sammy has done so much for him in his heart that made Lincoln decline the offer and instead worked with Giorgi to pull off the Federal Reserve robbery. They succeeded the heist and stole over two million US dollars. When Sal comes to pick up his cut, he and his gang betray the Robinsons by killing them and taking the rest of the stolen money. They set Sammy's bar on fire to make sure no one made it out alive. Luckily, Lincoln survived, and a bullet created a scar on the right side of his head by skimming it.
Father James came to the ablaze bar that night and saved him by not being burned alive. This priest was a close friend to Lincoln and has been ever since his childhood. A couple of months took Lincoln to nurse back to health and ask Father James to make a call to John Donovan. His war colleague arrives in New Bordeaux to gather intelligence and help build Lincoln's vengeance pathway aimed at Sal Marcano and the rest of his crime family. The mission wasn't going to be an easy task to do on their own, so they went out their way to gather lieutenants to help destroy the Marcano family's foundation and build a new crime family to take over.
After finally killing Sal, Lincoln gets transported to the strange place known as the Crossroads before leaving the unfinished casino. John Donovan has the same fate too before arriving at Father James' church to wait if Lincoln accomplished murdering Sal.
Abilities/Skills:
Spec Ops Soldier Training
-Endurance Rank 4 (400)
-Concealment (Hearing) Rank 2 and Concealment (Extrasensory) Rank 2 (400)
---Ongoing Rank 2 (200)
Total Cost: 1,000
Description: Serving the 5th Special Forces Group, Lincoln developed skills of a commando that he can use against his enemies. Whether it be stealth or combat, he never bats an eye away from diving into combat.
Combat Knife
-Damage Rank 3 (300)
---Removable Rank 3 (-150)
-Concealment (Hearing) Rank 2 (200)
---Removable Rank 2 (-100)
Total Cost: 250
Description: A knife that Lincoln clay kept after leaving the military. This helps to take down his enemies quietly but can be removed by knocking it out of his hand or snatching it.
Browning Hi-Power
-Damage Rank 2 (200)
-Ranged Rank 2 (100)
-Removable Rank 2 (-100)
-Finite Rank 2 (-100)
Total Cost: 100
Description: A pistol that Lincoln keeps inside his jacket at all times and is a semi-automatic handgun. Enemies are able to remove this weapon from his hands if they are strong enough by grabbing it or knocking away. Each mag only carries 13 rounds and when Lincoln runs dry, he must reload which only takes 5 seconds.
Master Skills:
Survival (Combat-Ready Soldier) Rank 4
Total Cost: 200
Driving (retro vehicles between the 50s-60s) Rank 3
Totals Cost: 150
John Donovan
-Summoning (300)
Total Cost: 300
Description: John is an ally to Lincoln since they share a bond that was made during their time over in Vietnam. He normally helps Lincoln by gathering intel about anyone or anything, thanks to his CIA background.
How much Essence did you spend?
2,000
How much Essence do you have left?
0
Were you referred by an existing member?
IT IS I AKU IN DISGUISE BLEHEHEHEHEHE
Last edited: