Don't go gettin' cocky
Level 1
Character Name:
Zebra
Character Source:
Toriko
Starting Location:
Kraw
Profession:
Gourmet Hunter/Criminal
Spent Essence:
2,075
Physical Tendencies:
Power(P):
50%
Toughness(T):
20%
Quickness(Q):
10%
Skill(S):
20%
Personality Tendencies:
Aggression(A):
60%
Cunning(C):
35%
Diplomacy(D):
0
Support(S):
5%
Physical Description: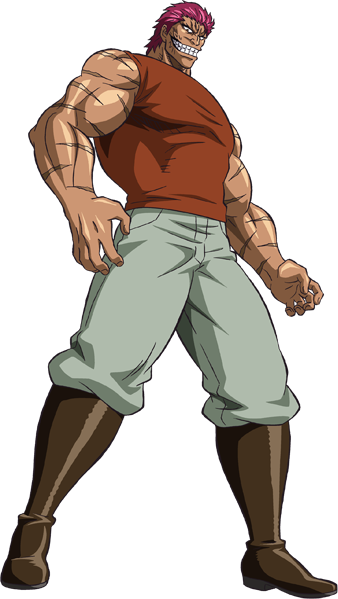 Zebra is an absolute behemoth of a man, standing in at 255 cm in height and with an incredible bulk of over 300 kilograms in weight. Heavily-muscled and scarred, with deeply tanned and weathered skin, along with vibrant, dark red hair. His expression is usually twisted into some form of deranged, manic grin, made all the more prominent and noticeable by the unsightly scarring and
wound
along the left side of his face, the flesh stripped away to expose his teeth and jaw.
Character History:
Zebra is a violent and cruel man, with an appetite for violence almost as great for his monstrous appetite for food of all kinds. His sheer, absurd hunger has seen him hunt down and literally eat into extinction a number of species which numbers in the dozens, a fact for which he was locked away and imprisoned, when stacked with his already violent tendencies and other crimes.
His violence and strength, however, left most normal prisons unfit for the task of dealing with him. In the end, he was sent to Kraw, feeling the unforgiving appetite and hunger of the planet itself might prove more than a match for the deranged criminal.
Abilities/Skills
Zebra's abilities are all monstrous and very potent, relying on application of sheer, overwhelming power with almost no subtlety or real grace involved. From the simple application of his absurdly monstrous physical strength, to a surprising hardiness and resilience thanks to the Gourmet Cells in his body, the presence of his Appetite Demon and the absurd destructive capabilities of his sound manipulation and control. Only a shadow of his former self, he is still considered a walking engine of destruction just waiting to build up momentum again and return to his former, terrifying glory.
Physical Abilities
Monstrous Strength
Damage 4 (400)
Move Object 4 (400)

Total Cost: 800
Description - Zebra is a man who possesses strength which perfectly befits his towering, monstrous stature. Even with his bare hands, he can inflict significant damage and tear the environment (and his enemies) apart with frightening ease. His time imprisoned has dulled the true extent of his strength somewhat, but he remains overwhelmingly strong, far above a normal man's limits.
Gourmet Cells
Regeneration
Healing 3 (600)
--Limited, requires (fucking lots of) food (-150)
-- Activation (-300)

Total Cost: 150
Description - Zebra's body is host to Gourmet Cells, which are extremely sturdy and powerful, able to adapt to and regenerate from virtually anything. The only downside to this miraculous healing and regeneration is that it requires immense amounts of calories to make use of -- an entire, heavy meal for a 'normal' person would barely be enough to help heal shallow cuts or scrapes. Luckily, Zebra has the appetite of a thousand men to keep up with this voracious energy sponge, all he needs is the food to feed it.


Tireless
Endurance - Rank 5 (500)
-- Limited, only when well-fed (-250)
Adaptation (Need for Sleep) - 100
-- Limited, only when well-fed (-50)

Total Cost: 300
Description - Zebra's Gourmet Cells give him immense endurance and staying power, allowing him to function at optimum strength and performance for extended periods, and even completely ignore the need for sleep, as long as he maintains sufficient food intake. It requires enough food to easily sustain a small army every day, but when sufficiently fed Zebra is a tireless monstrosity.
Sound Manipulation
Hell Ears
Senses - Rank 5 (500)
-- Limited, Hearing only (-250)
-- Concentration (-250)

Total Cost: 250
Description - Zebra has superhumanly acute hearing, which enables him to detect sounds far above and below the normal range of human hearing, as well as hear things far more quiet than would normally be audible. With active focus and concentration, he can pick out sounds as quiet as a heartbeat from nearly three hundred paces. This ability is so precise, that Zebra can even hear the proximity of the "footsteps of the Grim Reaper", judging how close a creature is to death by the change in sounds that they make, listening carefully to their breathing, heartbeat, and other such factors.

Sound Bullet
Communication (100)
-- Concentration (-50)

Total Cost: 50
Description: With proper concentration and focus, Zebra can tune his already superhuman hearing to such an extent he can actually hear specific signals and forms of energy transmitted through other communications mediums, and in turn project his own voice at a matching frequency and transmit it back, allowing him to communicate with those who might 'call' him up.

Machine Gun Voice
Damage 3 (300)
-- Ranged (150)
-- Finite (-150)
-- Side Effect (-150)

Total Cost: 150
Description:
Zebra inhales a deep breath, before proclaiming the attack's name and unleashing a deep, reverberating staccato shout that forms into hundreds of 'bullets' of sound, which bombard a target with a storm of impacts. Each individual sound bullet is roughly the size of a normal human's fist, producing a small explosion on impact. Individually each shot is not very powerful, but their sheer number and rate of fire makes them rapidly add up.

The attack has an onslaught of only a few seconds, and while it is one of Zebra's easier attacks to manage it still drains energy faster than normal, burning through stored calories from food at an accelerated rate if overused. It also runs the risk of damaging his vocal cords and ruining his voice, preventing any other sound-based attacks, requiring moderation in its use.

Weak Point Voice
Debuff 3 (300)
-- Affects Multiple 2 (300)
-- Ongoing (300)
-- Activation (-150)
-- Finite (-150)
-- Nondiscriminating (-150)
-- Weakness, does not work in vacuum (-75)

Total Cost: 375
Description:
Zebra sucks in a deep breath over several seconds, before letting the name of the attack be known and releasing it. When it is released, it takes the form of a shrieking noise at a piercingly high pitch, just barely within normal human hearing range, accompanied by a rippling wave of sonic energy that blasts out from Zebra.

Anyone within the affected range of the sonic pulse is stricken with the effects, their balance and composure shattered and assaulted as everything goes topsy turvy, sickness and instability setting in to their very core, breathing becoming difficult and movement seem painful. It's a technique designed on making running away rather than fighting seem like a very wise idea.

The effects persists for quite a while normally, for a handful of minutes depending on the sturdiness of those afflicted, but the sheer volume and pitch of the attack takes a heavy toll on Zebra's vocal cords and can leave him hoarse and rasping, even completely losing his voice if he uses it too frequently, and the energy output required burns through his calorie reserves substantially quicker than other means.
Last edited: